Our members live in Houston, Spring, Tomball, Cypress,
and other communities north of Houston.
All are welcome to join, regardless of their city of residence
Members are encouraged to invite guests and
prospective members to all of our Branch activities.
On Thursday, April 16, 2020 at 7:00 p.m. Jennifer Salazar, Program Director of the BBB will discuss the Top 10 Scams for 2021 for our April Branch Zoom meeting.
---
March Branch Zoom Meeting – March 18, 2021 – 7:00 pm
Contact Brenda Van Derbur (brendavan@comcast.net) to receive the link and join the meeting.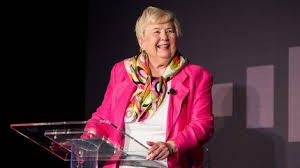 Frances "Poppy" Northcutt
Poppy Northcutt – NASA engineer – Texas attorney – women's rights activist
All systems are "go" at our March meeting when we will meet and listen to Poppy Northcutt who began her career as a trailblazing "computress" and then as an engineer for the technical staff on NASA's Apollo Program during the space race. During the Apollo 8 mission, she became the first female engineer to work in NASA's Mission Control. Ms. Northcutt graduated summa cum laude from the University of Houston Law Center becoming a criminal defense lawyer, specializing in women's rights.
She was the first Women's Advocate for Houston. In this position she helped pass a great deal of legislation improving the status of women. She negotiated for women to become police officers and firefighters. She led an important equal-pay study going through the entire Houston municipal payroll. She was so dedicated to improving equality that she counted women's bathrooms versus men's bathrooms throughout all of Houston, helping to bring even this number into parity.
---
Party With a Purpose
November 4, 2020
Facebook banner, Twitter banner, Email banner,
300×250 Web banner, 728×90 Web banner